GPR Mapping Services for Cemeteries
MAXIMIZE THE POTENTIAL VALUE OF YOUR CEMETERY BY LOCATING AND MAPPING AVAILABLE BURIAL SPACE AND ACREAGE.
Since the Autumn of 2007, Omega Mapping Services has worked with more than 145 cemeteries. Spanning from North Dakota to south Florida and from New Jersey to Louisiana, our field technicians have collected and organized the precise burial location data of more than 750,000 interments in cemeteries of every size.
These cemeteries range from small private family lots up to an 86 acre cemetery. Omega Mapping Service makes this all possible with our underground mapping service. We use Ground Penetrating Radar(GPR) and GPS (Global Positioning System) / GIS (Geographical Information System) coordinate technologies.
Why choose Omega GPR and GPS/GIS Mapping Services?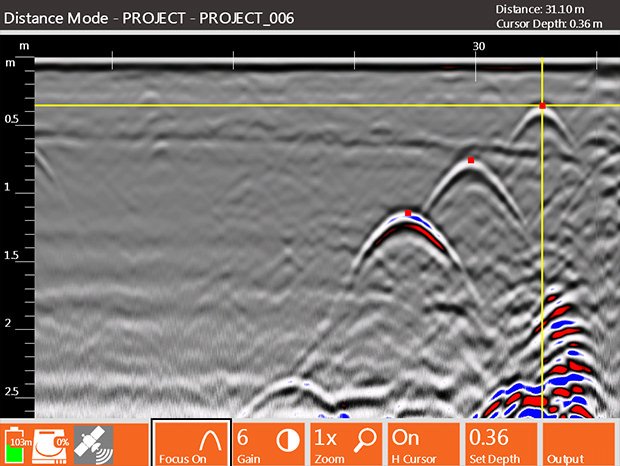 Preserving History
Owner and founder, Len Strozier, has always held cemeteries in reverential esteem. His quiet fascination with the historical and cultural aspects of human burial rights has led him on a very interesting life path.
Using the most up to date technologies to create detailed maps of cemeteries, Len leads a highly qualified team of field technicians in this cemetery mapping service. Preserving our collective history is a calling for each member of Omega Mapping Service's GPR survey team.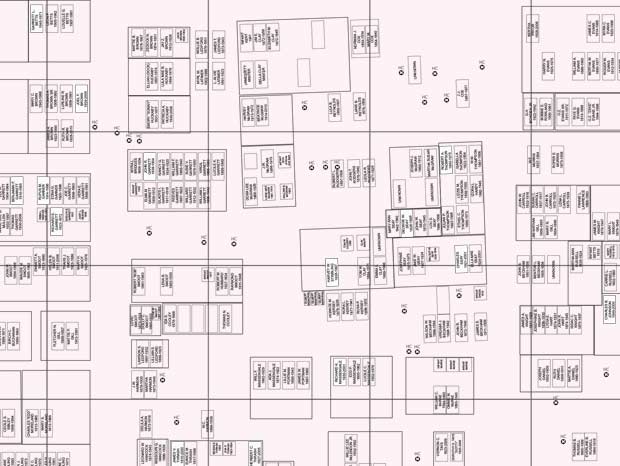 Detailed Results
With a precise Robotic GPS system, Omega Mapping Services will capture a detailed picture of surface landmarks. Then mapping with Ground Penetrating Radar completes the subsurface image. Blending these two mediums into a map and printable database.
Imagine a printable cemetery map on one page with a corresponding cemetery roster in another document. This will save significant amounts of time, expense, and frustration in the years and decades to come.
Omega Mapping Service is a geophysical GPR survey team that will create detailed "as-built" cemetery plot maps to help ensure your cemetery is well planned and profitable.
Omega Mapping Service Uses the Latest in Mapping Technology
Omega's Mapping System can build survey-grade maps of known and unknown burials in your cemetery.
Omega Mapping's GPR Services use the latest technologies in Ground Penetrating Radar and GPS/GIS data collectors to put together precise renderings of cemetery acreage. Additionally, Omega Mapping Service creates "as-built" maps of municipal infrastructure such as subsurface power, water, and gas lines.
GPR can detect disturbed soil caused by:
Wooden and/or metal caskets

Voids in the earth with little to no surviving skeletal remains

Ceremonial burial objects

Historical objects

Vaults

Improperly positioned graves

Unmarked graves

Underground utilities

Etc.
Don't know where to start?
Don't worry, our team of experienced GPR mapping professionals will help you understand our pricing structure and further explain the plentiful benefits of having extremely accurate underground maps.
Cemetery Plot Mapping with Ground Penetrating Radar (GPR)
Cemetery GPR Mapping will identify and record accurate representations of marked and unmarked graves. GPR is a non-destructive geophysical method of testing that allows for respectful imaging and mapping of the burial grounds in the most non-invasive way possible.
Why Do You Need a Cemetery Plot Map Using GPR?
As the cost of real estate continues to rise, and the size of our aging population grows, managing a cemetery has become more and more challenging. Working with an inaccurate cemetery plot map can cause a whole host of problems and prevent further development of the grounds.
Ground Penetrating Radar surveys will plot each burial site with pinpoint accuracy. This allows for informed planning for future development. With a GPR cemetery plot map, there is no chance of disturbing existing remains.

Perhaps you have discovered an old and forgotten cemetery on your property. Using Ground Penetrating Radar to plot the burial sites can give you an understanding of the scope of the graveyard. GPR can help by locating unmarked graves and providing definition to incorrectly positioned headstones.?
There are often no visible signs of the burial location at the surface level. Even if grave markers are present they may be incorrectly positioned. Cemetery GPR mapping of the area will plot each burial site to ensure this piece of hidden history will no longer be forgotten.
Many historical burial sites have missing or inaccurate records which makes creating a cemetery plot map without GPR exceedingly difficult. Prior to the mid-1800's, only wealthy and affluent families could afford headstones. This means that many unmarked graves are likely present in countless cemeteries across the nation.
Some of these unmarked burial sites may have once had a fieldstone marker or wooden cross that have since disappeared. However some may have been enslaved burials or poor tenant farmers with no original marker.
How Do You Make a Cemetery Plot Map Using GPR?
The Omega Mapping Service field technician will use the latest technologies in Ground Penetrating Radar and GPS/GIS data collectors to draw precise renderings of the cemetery's acreage. The combination of these technologies is key to an accurate representation of the cemetery.

With a Robotic GPS system, the field technician will capture a detailed picture of the surface landmarks in addition to the GPR data which completes the underground view. While the field technician can interpret the GPR data real time, blending these two mediums together allows Omega Mapping Service to build a precise map and printable cemetery plot database.
The Ground Penetrating Radar transmitter and antenna emits pulses of higher frequencies of radio waves into the ground. The depth of penetration of these pulses is often tens of feet, although this is dependent on the dielectric properties of the soil conditions. The electrical conductivity materials present in the soil affect how far the signal is able to penetrate.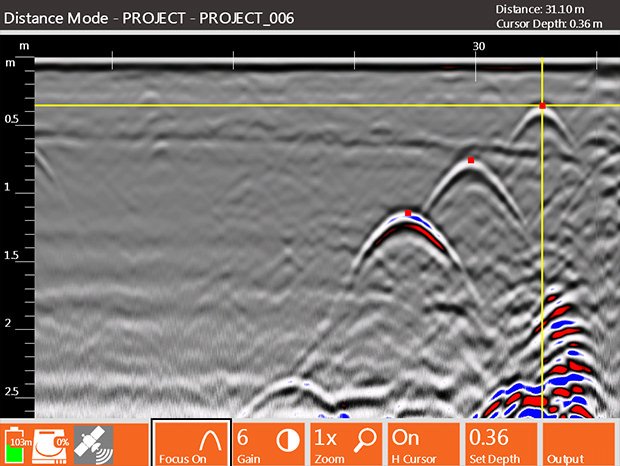 Reveal the Past
When the Ground Penetrating Radar signal reaches a buried object it will reflect back to the GPR system. This will show a hyperbola on the viewing screen indicating a soil disturbance. Examples of such disturbances are wooden caskets, vaults, ceremonial burial items, skeletal remains, voids in the earth where remains are (or were), and more.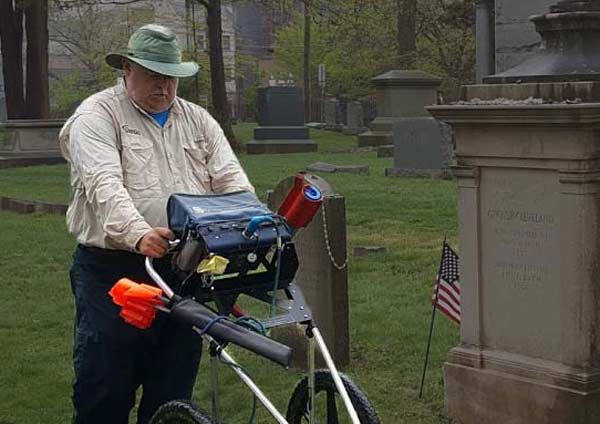 Plan for the Future
GPR scans can also assist in subsurface utility locating. This will allow for electrical, plumbing, gas lines, and other underground utilities to be easily identified, mapped, and avoided. Locating underground utilities, and having an "as built" map of their locations, is vital for future development of the property.
Don't know where to start?
Don't worry, our team of experienced GPR mapping professionals will help you understand our pricing structure and further explain the plentiful benefits of having extremely accurate underground maps.