An RV Income Opportunity No One Is Talking About!
A lot of us dream of wide-open skies and the road stretching on far ahead. More and more people are taking to the highways and byways of America to live full time in recreational vehicles. Over one million Americans currently reside full time in an RV, and there are over 16,000 campgrounds and parking facilities to support public and private RV camping in the country.
Rv Life's Pros
Cheaper cost of living and having the freedom to travel wherever you like is what brings most people to RVing. Traveling in a recreational vehicle gives you the freedom to visit national parks and monuments, famous cemeteries, ancient cultural sites, and pretty much everything in between. Randy Olsen and Tracy Staedter created The Ultimate US Road Trip Map that makes a complete trip around the U.S. with 13,699 miles of driving.
… And Cons
Some people choose to travel part-time and still maintain a stick and mortar home base, while others pull up roots, sell everything, and travel full time in an RV without a second thought. Ensuring your vehicle is properly maintained can be costly, and finicky. A $50-$100 monthly maintenance budget is a necessity, not to mention gas, insurance, and RV park or campground fees. Making sure you have an ongoing income stream is important for success when you're RVing full time.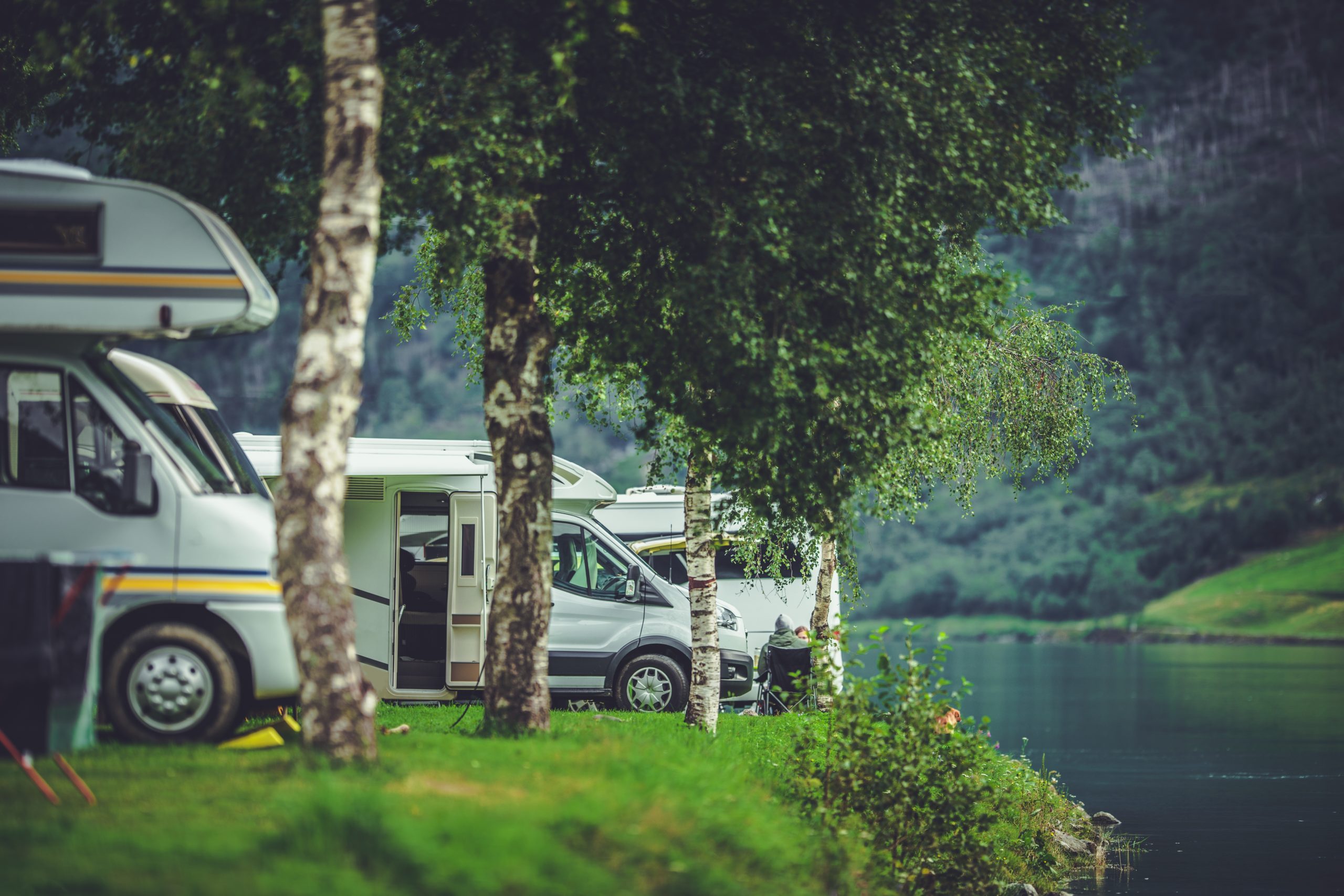 How To Earn Money On The Road: The Basics
The main concern we often hear is how to make money while living in an RV and there is a lot of great advice out there about income opportunities on the road. There are "work from home" jobs that can be done while traveling, but consistent reliable internet connectivity is necessary for the most part. There is a lot of seasonal work available for those who travel, but that can dry up in the offseason. Some RVers choose the "Camperforce" route. "Workampers" put in long hours at an Amazon fulfillment center with the option for free overnight parking.
An Unexplored Income Opportunity
Becoming an Omega Mapping Service's RV Franchisee opens up an almost entirely unexplored income stream for RV Entrepreneurs. OMS makes sure you are properly trained with the state of the art hardware and software used for locating underground utilities and cemetery GPR mapping. You will learn how to use the Ground Penetrating Radar to discover what is hidden underground, and how to mark GPS coordinates to send back to OMS for digital post-processing. Omega Mapping Service takes care of the post-processing of maps, quotes, and all of the backend tasks while you manage the surveys themselves.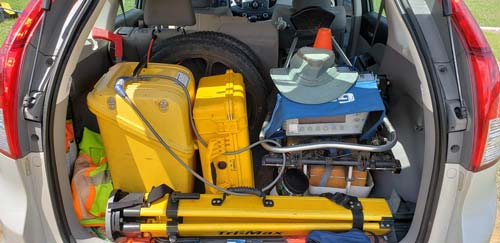 In case you were wondering: the GPR/GPS equipment included in your Franchise Fee can fit easily in the back of a Honda CRV and in the basement of most RVs.
What exactly is Ground Penetrating Radar?
GPR is a method of viewing buried infrastructure or objects located underground, without disturbing the ground. GPR systems use an antenna to emit high-frequency radio waves into the ground and records the length of time it takes to receive the reflected signal once it bounces off a buried object. When the signal is reflected off of a buried object the screen will show a hyperbola. GPR is used to create detailed pictures of subsurface infrastructure during utility locating or cemetery mapping procedures.
For more detailed information on how GPR works, check out our page, What is GPR?
Municipal GPS Survey Opportunities
Working with many cities over the last couple of decades we have been able to locate busted pipes, underground caves, un-mapped utilities and much more. Using Ground Penetrating Radar for underground mapping and the use of GPS/GIS units allows us to make detailed maps over streets, in buildings, and across properties saving you time and money by knowing what is underground before you dig.
Cemetery GPR Mapping Opportunities
Since the Autumn of 2007, Omega Mapping Services has worked with more than 250 cemeteries. Spanning from North Dakota to south Florida and from New Jersey to Texas, our Omega Mapping Service Technicians and Franchisees have collected and organized the precise burial location data of more than 750,000 interments in cemeteries ranging from small private family lots up to an 86 acre cemetery.
Hardware That Travels
Our Ground Penetrating Radar unit and 2x GPS systems work wonderfully with the tight spaces you need for travel, as they are not overly large and can easily fit in your standard recreational vehicle. RV Franchises work so well with Omega Mapping Services because you are able to take all the equipment with you. We handle all of the technical post-processing so all you need to do is travel, map, get the data, and send it off! After that, you hit the road and travel to your next destination while enjoying the RV lifestyle.
Your Investment
$115,000+ and $60,000 can be financed.
Includes GPR Equipment

Includes Area Licensing

Includes Training

Includes GIS Equipment

Includes Ongoing Support
Your Operating Fees
Contact us for the current fee structure.
Ongoing Jobs

Marketing Opportunities

Organic Marketing

Other Omega Opportunities
Tax Tip: Your RV, gas, tires, internet, maintenance, and more may become a business expense!
Omega Mapping Service Supports Our Franchisees
Accounting Support
OMS provides accounting setup and support using Quickbooks Online to our Franchisees in order to get you started on the right track. Our goal is to ensure you are able to spend more time focusing on your business and boosting your cash flow.
Sales Training
OMS will be there with you from the very beginning and will stay by your side throughout our business relationship to guarantee you have all the sales support you will need to get the desired results. The years we have spent learning about and understanding GPR surveys help you get a head start in this industry.
Post-Processing
Once the GPR/GPS Field data has been collected and the area properly mapped, you will upload OMS all of the pertinent information for post-processing. OMS can even mail it directly to your client to allow you to focus on growing your business.
Become A Part Of Our Professional Team, Reach Out Today!